Surgical Mask CE Certificate
CE marking is a certification application that started in European Union countries. Products bearing this sign have proven to meet all health, safety and environmental requirements. CE marked products can be sold and used freely within the European Union. However, today it is a generally accepted practice all over the world.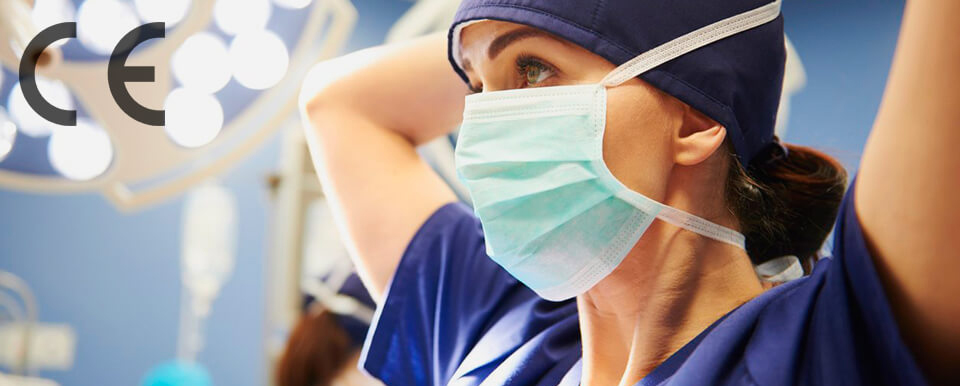 Work gloves, work shoes, dust masks and other personal protective equipment must be certified in accordance with CE criteria. Thanks to this mark, users are assured that the product provides strong protection. The CE mark on the device and equipment used in the medical field provides a separate safety and reliability. Surgical masks are also included in this group.
The basic standard that must be complied with in order to put the CE mark on the surgical masks is the TS EN 149 standard (Respiratory protective devices - Half masks with filters for protection against particles - Properties, experiments and marking standard). This standard describes the minimum conditions for half masks with filters, respiratory equipment used for protection against particles that cannot be removed from the environment.
Surgical masks of type N95 (FFP3) particle filter are accepted in the third category within the scope of personal protective equipment and are masks that meet the standard requirements.
The primary use of surgical masks is to prevent the biological particles that will spread through the mask from the wearer of the respiratory tract to other people, patients or the working environment. In addition, surgical masks must meet resistance tests against splashes of blood or other infectious liquids. The main use of surgical masks is operating rooms.
Surgical masks conforming to EN 149 should fit tightly on the face and provide sealing between the face and the mask. In masks designed in this way, breathable air does not leak through the mask wall and passes through filter. For this reason, it is important that surgical masks pass the conformity test.
CE marking can now be placed on surgical masks that pass these tests under the responsibility of the manufacturer.
Surgical mask CE certification services are also provided to our businesses within the scope of certification services.